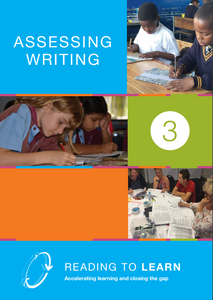 This book shows how to use the R2L Writing Assessment tool. 
The assessment serves three functions: 
it enables you to see the progress your students are making, and how far they need to grow to achieve their gradestandard
it provides a record of achievement for students, their family and the school
it shows what language resources and skills your students have, so that you can plan your teaching program, and explicitly discuss language and skills with them. 
The R2L Writing Assessment is designed for these purposes. It shows exactly what language resources students are using, and gives a score so that their growth can be tracked from term to term.
The R2L writing assessment was developed in a national research project, and became the basis of the national Australian writing assessment, NAPLAN. The R2Lassessment is more useful for teachers, as it shows your students' progress against standards for their school stage.

Recommended: It is recommended you read Book One: Preparing for Reading and Writing first.