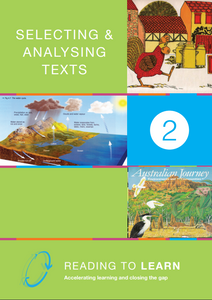 This book introduces the tools you need for identifying the genres of the texts you are working with, and analysing each genre so you can plan reading and writing lessons. 
The final section provides models of appropriate levels of reading books for each year of school, and a list of recommended reading. Most of the example texts in this book are extracts from longer texts, such as novels or text books.
This is intended to show you how you can select good models from the text you are using with your class
Recommended: It is recommended you read Book One: Preparing for Reading and Writing first.